Whats going on?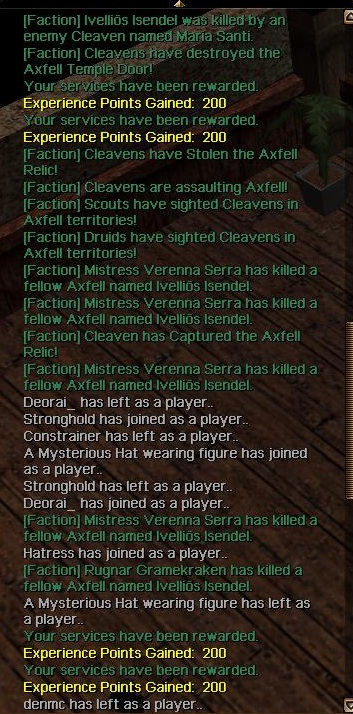 Posts

: 110


Join date

: 2011-05-17



Yea. That colossal asshat pissed us off so much, that we kept killing him.

just kidding....



Posts

: 332


Join date

: 2011-03-28



Last edited by Isendel on Sun Jul 29, 2012 12:44 pm; edited 1 time in total



Posts

: 280


Join date

: 2011-06-25


Age

: 33


Location

: Somewhere else



Yea I forgot to mention this to Moth. If you are wearing any item that grants magic damage vulnerability and a raise dead scroll is used on your corpse you will instantly die again. The raise dead does magical damage to your character leaving 1 hp left. With even 5% magic damage vuln the damage dealt to you will kill you. For the time being take off magic vuln items when your in the fague plain or have your allies use resurrection on you.
Admin




Posts

: 1253


Join date

: 2011-02-28



Raise Dead or Ressurection doesn't make a huge difference on this MOD.
Granted it makes a difference but I think we can make Raise Dead restore you with ½ your health without upsetting the balance too much.
This would then solve the issue of people with Magical Damage Vunerability dying upon being brought back to life.
You would then need 100% Magical Damage Vunerability to die from a Raise Dead or barrack ressurection.
And no item has that high %.

-TheMothMan



Posts

: 295


Join date

: 2011-06-17



Why can't people just buy and use normal safe ressurection scrolls to avoid putting others at risk of being 1hp..

Is it really that too expensive to stock up on 7kishgp scrolls that can be used by any class...?
I'm planning to be extra careful to avoid death because I dread someone making the mistake of taking a risk to use a raise dead on me instead of a safe full hp ressurection..



Posts

: 341


Join date

: 2011-02-28


Location

: Sitting infront of a Computer.




---
Permissions in this forum:
You
cannot
reply to topics in this forum